Fan Reviews of LittleAriel.com
Would you like to write a quick review of LittleAriel.com?
This page is set aside for your feedback and comments.
I'd love to include your words on this page...



Saturday, July 30, 2005
I AM A FAN OF THE STORY ,I LOVE YOU AND YOUR FISH AND THE BOY.
CIARA
Thank you, Ciara

Friday, July 29, 2005
hi i'm halie
halie
Hello Halie, welcome to LittleAriel.com

Friday, July 29, 2005
hello i love you Ariel
Dominika

Thursday, July 28, 2005
i think ariel is like me. adventure girl smart if i do say so my self
clio
You are indeed quite smart to visit LittleAriel.com

Wednesday, July 27, 2005
HI ariel Ilove you as a friend i have iluaya kihablu ica caaau aimuainauaku ksdk ukktmaheese
jessica
Okay

Wednesday, July 27, 2005
why cant u have short plays of the little mermaid. duhhhhhh
D and A
Short plays?

Wednesday, July 27, 2005
Dear Ariel I met you at disney Land. I am your best Fan!! If you can save this it will be good.
Love your best Friend Savannah
I have saved it for you. Have a GREAT Ariel day!!

Tuesday, July 26, 2005
oh and 1 more thing......i have BOTH of the viedeos, and planning on getting the dvd;)!
morgan
That sounds like a GREAT plan, I know you'll enjoy

Tuesday, July 26, 2005
Hey guys! I am so gald that you guys made this website! But, if that is all right with you guys that you can give me some great pictures of Ariel and her family and friends!
Jessica
You should be able to find a lot of GREAT pics here on the site, or on the Links Fansites and Fanart pages. Glad you found the site, and happy hunting

Tuesday, July 26, 2005
i rillt like ariel she is my fav princess i alway watch her shows but when i am at school i can't but now it is are summer holiday so now i can watch your shows i like the way u act well bye i will watch your shows all the time ok bye
kendra
Have a GREAT Ariel vacation

Tuesday, July 26, 2005
Dear little Mermaid I Have your alsome games and your Books your videos also I have taken a picture with you and your very beutyfules in the world I watch you in T.v everyday with fiounder and you work so good in every thing.
Sulay
Awwww, thanks SOOOO much for writing, your email has made my day

Monday, July 25, 2005
my favorate
tabitha
Also my favorite

Saturday, July 23, 2005
ARIEL YOUR THE BEST XOXOXOXOXOXOXO
Arielle
Arielle, you're the best too

Saturday, July 23, 2005
I am an 80's child. Ariel brings out the little fun redhead that I am. Ariel ROCKS. Keep up the good work!
ERIN
Hey, thanks a lot for your wonderful email, Erin

Saturday, July 23, 2005
the littler mermaid is the best disney movie
lauren
Thanks Lauren

Saturday, July 23, 2005
I love the little mermaid number 2 and my favourite toy is brats dolls and I like to play with them.
briony
I'm not a fan of the Brat dolls, and I only "liked" TLM2

Friday, July 22, 2005
I love your movie, When i was 6 i wish i was a mermaid!
Leightee
May all your wishes come true

Thursday, July 21, 2005
i love this website very much because its cool and pretty and sweet to you know p.s. i ilke just staying here 24 hours all day long but my mom said staying in the computer will hurt your eyes because you can not see any thing p.s. good bye and come back later.
rejhana
Thanks again (and again) for writing, Rej

Wednesday, July 20, 2005
it verri cool,littleariel.com
leslie x x x x x x x x x x x x x x................
Thanks Leslie

Wednesday, July 20, 2005
W00! GO ARIEL!
steve
You said it all right there

Wednesday, July 20, 2005
I think this website is really cool and I have got little mermaid 1 and 2 on video and I have a wallpaper of Ariel. I wish I could have her autograph. Does anyone know how to get Ariel's autograph? From Joanne. Ps I am having a happy Ariel little mermaid day.
Joanne
Now that's GREAT news!! As far as I know, Ariel only signs autographs at the Disney theme parks where she appears

Tuesday, July 19, 2005
you are tha coolest i love how you sing
whitney
Thanks, Whitney

Tuesday, July 19, 2005
Dear Ariel I love you so mush and i rember once I TOOK A PICTURE WITH YOU ARIEL. GUSSE WHAT YOU ARE THE BEST GIRL IN THE WHOLE WORLD AND I LOVE YOU
zainab
Thanks for sharing, Zainab

Sun, 17 Jul 2005
Hi there! I am a huge Ariel fan as well! (by "fan", I mean obsessed. lol) Great site. However, I was wondering if you new a place online that I could find (small sized) animated scenes from our beloved movie. (i would like to use them in my livejournal)
Tonia
I understand the obsession part, Tonia

If you're looking for avatars: http://www.LittleAriel.com/avatars.htm but if you're looking for actual animated images, I think your best be would be to ask around at LittleAriel forum: http://littleariel.proboards19.com Good luck and have a GREAT Ariel day!!
Saturday, July 16, 2005
hi, i just found your site...i like it...i absolutley love the little mermaid...my room has little mermaid all over....if u have any pics please send...thanks.......
Tiffany
Well, Tiffany, there are lots of pics on LittleAriel, in fact, most everything I find TLM related, is on the site. Glad you found the site

Saturday, July 16, 2005
thank you for your site, i am constantly referring to it! ariel is a wonderful, lovely character...moslty i love the older disney classics, but she is one of the few "newer" (i guess nto so new anymore) characters that i love! ALSO: i wanted to tell you to be sure to hear the version of PART OF YOUR WORLD on the READYMADE DIGS DISNEY album!!!! it is gorgeous & this album renewed my disney love!!!
norn
Wow, it's nice to have a regular visitor, I'm glad to be able to provide a resource for you. Thanks for the info on on the new Disney album

Friday, July 15, 2005
I just wanted to say that i love Ariel, and i love watching the little mermaid Thank you
Amber
You are most welcom, Amber

Friday, July 15, 2005
Thanks for passing those along to share with the rest of us

Friday, July 15, 2005
hi i am writing this 4 my little sister cariss shes 4 years of age! my little sister loves u and watches u every night b4 she goes 2 bed and when she wakes up she sings the song "part of that world" please say a hello 2 her she would b so happy love melissa (cariss) x x x
i forgot 2 tell u can u wish cariss a happy birhtday shes going to b 5 on the 21st of july!! mayb sing her a little song !!
melissa(cariss big sister)
Happy happy fifth Birthday to you Cariss

Friday, July 15, 2005
I've heard that the little mermaid DVD limited edition is coming out on October 2006, but then i also heard it was coming out in 2008. Which one is the correct one? By the way, This website is so amazing, it brings back the memories. Anyway, thanks for taking time at looking at my question bye!
gabby
2006 is the correct one as far as I know.
Friday, July 15, 2005
i love ariel she is great i wish i was areil she means the world to me and i wish i was her and had all the dolls and stuff love loads...
luke
I understand

Thursday, July 14, 2005
Ariel i just think that you are soo beautyful and you have a very beautyful voice. you are soo lucky to have a prince like Eric. Well do you think you will be making a DVD soon because i have been waiting for one a long time?
laura j
Well, the only DVD coming out for sure right now is the Special Edition of the first film. But if we keep our fingers crossed, we'll soon see TLM3 which is in the works right now

Thursday, July 14, 2005
ilike the little mamaid because is nice .
brisa
Absolutely

Tuesday, July 12, 2005
ariel's underwater adventure game (doesn't work)
roshini
This game is a Flash file and you'll need to install Shockwave to play it... You'll get a prompt to install or update it.
Monday, July 11, 2005
out of all the characters i love u the best. i always wanted to be u and i am 13 years old. but no matter how old i get i will always love u.
sharon
You are wonderful, Sharon

Monday, July 11, 2005
hi areil your the best mermade
brea
Thank you for your sweetness, Brea

Monday, July 11, 2005
hi ive got to be one of the biggest fans of ariel lol i used to have all the dolls but my mum got rid of them but i manage to get another tyco calypso (beautiful) one... i was wondering do you know a sught that show you all the tyco ariel dolls
love loads xxxx i love you ariel, lukkie
There used to be, but sadly, it's gone now

Sunday, July 10, 2005
hi i am 5 years and I love the little mermaid
Shawnie
Awww, thanks for sharing, Shawnie

Friday, July 8, 2005
you are the best
lindsay
Thanks, Lindsay

Friday, July 8, 2005
ilove you
brittany
Totally cool, Brittaby

Friday, July 8, 2005
I think u are the best prinss that was ever creeated.
shelby
You are so right

Thursday, July 7, 2005
yes i am a 14 yr old boy! but who gives a care!? i love Ariel and i'm not afraid to say it!
Nick
I don't think it matters how old you are, there seems to be a place in the heart for Ariel at ANY age.
Thursday, July 7, 2005
hi just want to say i love the lmm lol
love jade
Thanks for sharing, Jade

Wednesday, July 6, 2005
I LOVE YOUR SITE, ARIEL ROCKS, I'm 6 years old and love the movie. THANKS FOR EVERY THING.
Makenna from ND and LV Nev.
You are very welcome, Makenna

Wednesday, July 6, 2005
i think this a great web site cuzi'm in love with the little ariel. keep up the good work!!!!!
thanks, Bianca
Your compliments are GREATLY appreciated. Thanks for stopping by

Tuesday, July 5, 2005
do u love prince eric
rebekka
Well, somewhere in this world there's a prince or princess for each and everyone of us, so of course, Ariel plus Eric equals Love

Tuesday, July 5, 2005
Ariel I adore you and melody. You are my two favorite people in the world.
gina
You have a lot of class, Gina

Tuesday, July 5, 2005
i love the little mermaid... it is got to be the best movie in disney history if you can find anything that i could buy especially bedding i would love to know im trying to do my room over all ariel and flounder thanx bye
amanda
Bedding you can find lots of, especially on eBay, and good deals too... good luck

Tuesday, July 5, 2005
You are my favorite princess!
Macey
You are most kind, Macey

Monday, July 4, 2005
hi,how are you.
REBECCA
I am just fine, Rebecca, and thanks for asking

Monday, July 4, 2005
i think the show is great for littel kids
elizabeth
Big and little ones of all ages for sure

Monday, July 4, 2005
i love you ariel
lindsay
You have wonderful taste, Lindsay

Sunday, July 3, 2005
Hi ariel. I am your number1 fan. Your my favrite princess.
Ashley
Thank you, Ashley

Sunday, July 3, 2005
Hi, I love Ariel and I am your number one fan. I am 7 years old and live in Florida. I want to join your club.
Ashley
Hello Ashley, you are so sweet... I wish there was a club, but the only club I can think of would be LittleAriel Forum

Sunday, July 3, 2005
Hi my name is Angel and I am a huge Ariel fan too!:) This is the first time I came across your site and I after viewing it I found it to be absolutely superb. You have lots of information and very nice pictures. Well a few weeks ago I went to Florida for a trip to the Disney Theme Parks. I haven't been in a while and was excited to see what I missed. Well one of their newest attractions in The Magic Kingdom located near Ariel's Grotto (and between Peter Pan's Flight and Snow White's Scary Adventure) is Mickey's Philharmagic. It is a 3-D movie. I like 3-D movies so I wanted to see it, but I expected it to be mostly about Mickey and Pluto, ect. Inside while waiting you pass some very beautiful movie sized posters of Ariel(loved them). Well the movie opens to Mickey Mouse telling Donald Duck not too play with his hat (the magical one from Fantasia) and of course Donald puts it on and then loses it. This is where the hat bounces around from some of the most famous and beloved movies. First, it ends up in the dining room of the Beast's Castle (Beauty and the Beast). They serenade Donald at the table as in "Be Our Guest" and in 3-D it's even better. Then after that sequence comes the best part in my opinion. The hat winds up floating "Under the Sea" and this sequence opens up to Ariel seeing Donald and her telling him how cute he is - he then turns red and is smitten with Ariel :) Then she begins to sing "Part of Your World" which is absolutely the best! During the perfomance, water is splashed at you to make it seem even more real. Then the hat goes into a scene from Fantasia and then the Lion King and then Aladdin where Jasmine gives Donald the hat. Finally Mickey gets ahold of the hat and all is right again, but that movie was absolutely spectacular. I did not expect Ariel to be in it so it was a definitely not to be missed if you are an Ariel or Little Mermaid fan. I must've dragged my family to see that movie five times but it was definitely worth it. I hope the email wasn't too long. They also have lots of new Ariel merchandise available at the Disney World parks and I think I snatched up one of everything. Well if you hae any questions or comments don't heitiate to emmail me back. Thanks for your time and once again great site!
Angel
Wow, sounds like you had a GREAT time!! Thanks for taking the time to write and share with us

Thanks also for the wonderful compliments about the site, and for visiting LittleAriel.com. Have a GREAT Ariel day!!
Sunday, July 3, 2005
i love ur website,it must of taken ages to do and you have put so much heart into it!!! I am a big fan of the little mermaid and think you should have been sketched into the film :> that'd be so cool!!! Is there really going to be a little mermaid 3? i heard there's gonna be a tinkerbell movie, that shuld be good. can i suggest a fab idea!!! i went onto a site and they showed a clip of finding nemo on it, perhaps you could show a clip of the little mermaid? or the little meremaid 2? p.s. a kewl website with ariel on it is DisneyPrincess.com
wendy
Thanks for the link, Wendy. That's a Disney site, by the way

Sunday, July 3, 2005
your pretty
sherillanne

blush
Saturday, July 2, 2005
Ariel on USPS stamps! Hi, just wanted to let everyone know (if you didn't already) that USPS now has a new lineup of Disney stamps out! Even more exciting is that there is an Ariel stamp!!! yay!!! I already bought mine! You can find them at your post office or at www.usps.com
Deanna
A totally beautiful set of stamps, the post office was out the first time I stopped by but got them in finally so I have 3 sets.
Saturday, July 2, 2005
hi little ariel how are you can we became freinds i'm nomy-lee
nomy lee
Hello Nomy-Lee, and thanks for writing. We are already friends, you can write any time

Saturday, July 2, 2005
Hey!! Keep up the good work with the website!! Ariel is the best! I've always been obsessed with mermaids for some reason, so naturally I was drawn to Ariel's story. It's good to know that there are others out there who share my passion for the Little Mermaid!!
Allie
Yes, there are a LOT of us

Thanks for the wonderful compliments on the site.
Saturday, July 2, 2005
I thought Ariel's mother's name was Aria. Which is it?
Emily
Saturday, July 2, 2005
Please can you make a Melody doll all I ever find are Ariel dolls and none of her own daughter. All you have to do is make a Ariel doll but with black hair. I did see one Melody doll on princessmonkey.com but it wasn't for sell. I want a Melody doll and I all ready have an Ariel doll!
Emily
Melody dolls are rare. I think there were only two different ones made, so you'll have to pay more if you're lucky enough to find her.
Saturday, July 2, 2005
i love the littel mermaid movie cause i got it a long time ago when i was 6 years old and than i bring the movie home with me than watched it you know rejhana p.s.
rejhana
Thanks for writing once again rej

Saturday, July 2, 2005
ariel es bonita traviesa y divertida
sabrina
Mucho Bonita

Friday, July 1, 2005
hello my name is martha and when i was four years old Disney's The little mermaid came out on home video I loved the little mermaid my father could not afford to buy me the video that I rented it at a local video store my father had to late fees and I rented it five times. Well I love Ariel and i loved the fact that her father Triton in the movie was such a lovig father who wanted to take care of his little girl , am a daddy's girl just like the little mermaid. I was in the family way two years ago and I asked my husband what should we name my daughter we came across baby names and I seen Ariel. On January 17,2004 I had a baby that weight seven punds eight ounces and I named her Ariel after the little mermaid. I love you Little Mermaid from Martha your number one fan and my daughter Ariel ! xoxo
Martha
That story touches the heart. Take real good care of little Ariel and have a GREAT Ariel day!!
Friday, July 1, 2005
Hello!My name is Amanda im 14 going on 15 and i still love the Little Ariel i loved her movies and her cartoons .........your most likly thinking im crazy for still likeing her but i do ...........I also live in New York/in Port jervis maby you herd of it hey maby you live there ........or not..............well e-mail me if you can talk to you soon maby ...... ok bye bye
Amanda
Believe me, you're not crazy for still loving Ariel. Thanks so much for sharing, Amanda.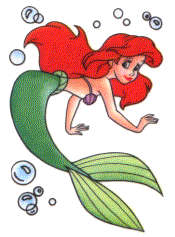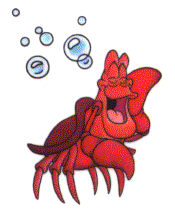 Explore Your Web... and have a GREAT Ariel day!!


Mike


Other Pages: 11 10 9 8 7 6 5 4 3 2 1