Fan Reviews of LittleAriel.com
Would you like to write a quick review of LittleAriel.com?
This page is set aside for your feedback and comments.
I'd love to include your words on this page...



Thursday, March 31, 2005
its my favourite cartoon......... i love it very much.please do send me wallpaers of this
nimmy
Hi Nimmy, you'll have to send me your email address so I can send you the wallpapers.
Thursday, March 31, 2005
I wanted to know if I could have 2 wall papers?? ArielKleenexWallpaper.jpg ArielWallpaper2.jpg I Would love to have thoes they are awsome... Thank you !!!
Meg
Thanks for writing Meg, wallpapers on the way

Wednesday, March 30, 2005
Hi I'm 2 yrs old and I just love wathing little mermaid and I love eriel.
Kayla S.
Thanks for writing, Kayla

Wednesday, March 30, 2005
i love going to littel ariel.com cause its fun to go to you know and they have disney picuters you know i ilke that
rejhana
Sure glad to hear you've enjoyed your stay

Wednesday, March 30, 2005
Hiya! I just thought I'd make you a sister site gift :D it should be attatched - enjoy!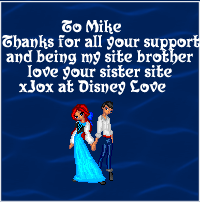 Hello xJ and thanks for the GREAT gift

I'll post it to the site this weekend. Hope you had an awesome Easter!! Have a GREAT Ariel day!!
Tuesday, March 29, 2005
You can link my Ariel website in your website. My website is mylittlemermaid.talkspot.com please try it. Oh I wanted to tell you I joined the ring and that I'm new in the list. If you have any questions about my website you can contact me in my website. Thank Mike
Viri
Hi Viri and thanks for joining Little Mermaid Ring

When you get a chance, please check the navigation code because it seems to be all broken.
Monday, March 28, 2005
your the best can u say brittany and brenda on your next show your great !
sincerly brit
Hello Brittany and Brenda!! Hope you both have a GREAT Ariel day

Sunday, March 27, 2005
Hi im Kaley and I love the Ariel she my favorite charter
KALEY
Thanks for writing Kaley, she's my favorite too

Sunday, March 27, 2005
i so love little mermaid i always want to be a mermaid my sealf
sonny
I really couldn't agree with you more Sonny

Saturday, March 26, 2005
I'm confues about ariel. I mean my cousin said that time she search a website about all the scary things and then she see the word mermaid and she look at the picture and the mermaid is a child a men is holding the mermaid girl. But I can't remember what's the website she told me but I don't know I beleive or not
Nur 'Ainina Iwani Bte Hj Irwan
Gee, wish I could help, but I've never seen a site like that

Saturday, March 26, 2005
I love Ariel more than anything in the world
Hi, I love your website. I'm 6 years old and since I was a baby I have loved The Little Mermaid. My mom and dad used to put it on when I was 6 months old and I would go to sleep listening to Ariel's voice. I have every doll mermaid and my whole bedroom is set up as a Little Mermaid Room. I have been The Little Mermaid for Holloween forever. My family now lives in Orlando so I go see The Mermaid in the Groto all the time. We also go see her at MGM. Your website is beautiful. PS I think my mommy's a Mermaid.

Love Demi Doo
Hi Demi, you are precious for sure

Thank you for your very nice email. It's notes like yours that make keeping up LittleAriel.com worth every minute. Oh, and you are sooooo lucky to live in Orlando! PS, if your Mommy's a Mermaid, then you must surely be a mermaid also

Have a GREAT Ariel day, Demi Doo!!
Saturday, March 26, 2005
I love arial very much. Arial is very qute and ahe is a good singer. Arial is very clever and she intend to find a real love with Eric. She is a 7th daughter of Titan King. She is 16 years old. I love the sea because of Arial.
Banky from Bangkok
And I love your email, Banky. Thanks

Friday, March 25, 2005
dear ariel i love seeing your movie
raven
Thanks for your note, Raven.
Thursday, March 24, 2005
i love disney websites cause i go on them I GO ON THEM EVERY DAY AND EVERY NIGTH TO
FROM REJANA.
Awesome!!
Wednesday, March 23, 2005
Thank you so much for sending me the webaddress so that I could save all of the wallpapers it is a great addition to my collection of Ariel pics. Hope to see more in 2005, I have a couple of pics I have drawn myself if you would like to add them to your site.
Sincerely, Amanda
Oh, please do send them along

Wednesday, March 23, 2005
Hi Ariel He Anthony i wish you see mermaids in the water your mermaid on tail with her Ariel little mermaid pretty pretty for a princess girl Ariel love mermaid. He Anthony i want for new merboy my tail me Anthony my love that mermaids and mermen and merboys and mergirls live in the sea Atlantica Sea your father king Triton merman live palace the kingdom merpeole them you girls mermaids for musical sing.Anthony i have a DVD LITTLE MERMAID 2 RETURN TO THE SEA new girl Melody new mermaid that so tal mermaid in the water ocean and sea. Anthony my favorite is mermaids and Mermen and Mergirls and Merboys. He Anthony me want for poster new Little Mermaid 2 Thank you Ariel
Anthony Gray
Keep on rockin' Anthony

Wednesday, March 23, 2005
Ariel you did a great job for the little Mermaid. I liked the movie a lot. Write back soon.
From Carla
Well, your wish may just come true. TLM3 direct to video appears to be in the works at disney. More on this later

Tue, 22 Mar 2005
I love the Little Mermaid and I love your site. I understand about the Wallpapers but I would really like a copy of all the pics to add to my Little Mermaid collection. Now that I found a great site I will diffently keep coming back.
Amanda
Hello Amanda, Sure glad to hear you enjoyed the site

Tue, 22 Mar 2005
Hi, my friend thinks that Sabastain is a lobster, please show/tell her that it is a crab so that she doesn\'t get everyone confused. Please Help!
Mandy
Hello Mandy, this question seems to come up a lot. Sebastian is definately a crab and NOT a lobster

Have a GREAT Ariel day, and thanks for writing.
Monday, March 21, 2005
I need to tell you something Ariel you are my fave prinsess
Gabrielle
You deserve a KISS

Saturday, March 19, 2005
i was just wonderin if u guys kno of n e site where i can find a big pic of tinkerbell ????? and plz don't say try google or yahoo.
thanks, Emma
Hi Emma and thanks for writing. Hmmm, have you tried Google

JUUUUST kidding... Actually, since this is mostly a site about Ariel and friends, I don't have much on Tinkerbell, although I'd really like to, I haven't had a chance to look around for you. You may like to find some Tinkerbell related sites and Peter Pan Fansites for her. Good luck in your search and have a GREAT Ariel day!!
Saturday, March 19, 2005
Hi mike I absolutely love the little mermaid and I was wondering if you could let me have an ariel wallpaper I want is Arielle3wallpaper and arisunset800-600xx.jpg Thanks so much mike!
Brenda
Hi Brenda, your wallpapers are on the way

Sat, 19 Mar 2005
i find it really sad that this site can no longer offer the games page, my kids really enjoyed it, and they ask me all the time if its working yet, so if theres anything i can do to help let me know
kristen
Hi there and thanks very much for your concern

I hope to have the games page up and running again within about 2 weeks. I need to change hosts because right now mine only allows about 6 gigs transfer and I need about 30! I found a host so I'll be setting it up soon. Thanks again and have a GREAT Ariel day!!
Sat, 19 Mar 2005
Dear Ariel my parents don't beleve in mermaids do they egzist? I really want your barbie but I have your move it is the best I love mermaids so much they are so cool you are cool and beautiful. I like you too Flownder you are cool to tank you for the move.
God Bless You, Allie
And Disney thanks YOU

Friday, March 11, 2005
ask what up
Amber
Hi Amber

Thu, 10 Mar 2005
Hi there Mike, What a neat webpage! I'm a big fan of that movie myself and I'm currently making a custom dvd of it because I can't buy it in stores :-( I read on the links from the wallpaper thumbnails that you can't have them on the website but you can e-mail them and I was interested in these two: "undersee1024" and "arielsunset". I plan on making dvd menus out of them and I'll let you know how it turns out! I was particularly interested in getting a high resolution, large sized image of the shot of atlantica from the very beginning of the movie or the shot where the title appears on screen in the opening credits. If you can help me out I'd be very greatful! Please write back very soon!
Ryan
Hello there Ryan and thanks for your GLOWING review... Wallpapers on the way

Sunday, March 6, 2005
Hi your Site is very cool i have only one question do you know when the new Ariel DVD (i dont know the word) comes out?
Bye TK
According to UltimateDisney.com, the Platinum release is 'probable' on October 2006. I was expecting later this year, but unfortunately I'm probably wrong. The good news is that it was originally scheduled for 2008

Sure am looking forward to it as there should be some GREAT special features

Saturday, March 5, 2005
I LOVE YOUR MOVIE AND I WOULD LIKE TO HAVE THE ''LITTLE MEARMAID'' ONE AND TWO! ''PLEASE''! THANK YOU! ''GOOD LUCK''!
!''IOANA''!
Thanks for your email, Ioana. I really wish I could send you both movies, but unfortunately, if I sent them to you, I would have to send them to everyone else that asks. I think you could save your money and then buy them yourself right from ebay (with help from a parent if you need it) Good luck and have a GREAT Ariel movie day!!
Saturday, March 5, 2005
areil you are my princess.I want to be a mermaid just like i am not faking i really mean it. i love your movie. you are a star to me.
kayley
Thanks for your wonderful email Kayley

Have a GREAT Ariel day!!
Friday, March 4, 2005
I'm sorry to bother you, but I would like you to give me some tips on how to make my own little mermaid site better.
Viri
Hello Viri, and thanks for writing, actually, creating a fan site can be a time consuming undertaking. If creating a nice looking website is important to you , you should first learn the "abc's"... using Front Page or some other web design program is the first thing you should get away from... learn how to hand code your page with a text editor (notepad or textpad). There are many resources on the web where you can learn it for free, and then practice it until you get it right. When it looks good on your local computer, you can upload the pages to your website. Make sure you have a unique design, and that your site is color coordinated. After that you'll need to add content so have some idea of what direction you want to go with that aspect of it. Try not to use any .bmp files as they are VERY large compared to their .jpg or .gif counterparts. Then be prepared to add to your site constantly and keep it updated as much as possible. Good luck and have a GREAT Ariel day!!
Thursday, March 3, 2005
Hello there! I was wondering if I could have the picture where ariel is jumping into the water splashing- the name of it is arielcatwalkcl.jpg i think thats the name of it, I would love to use to to decorate my computer. Anyway, thank you sooo much! don't stop being such a great ariel fan just like i am :). ( http://poisonpetals.deviantart.com
) I have one ariel fanart - well, mainly it was for loish's birthday but yeah. Thanks again!
-gabby
Hi Gabby and thanks for the GREAT email! Not to worry, I'll never stop being and Ariel and TLM fan

Enjoy and have a GREAT Ariel day!!
Wednesday, March 2, 2005
The little mermeid (ariel) is my favorite princess, movie of all time i am a big fan and go crazy everytime i see her on something.

I know what you mean, I'm CRAZY about Ariel too

Wednesday, March 2, 2005
Hey Mike, I know I already signed this but I've been around Little Ariel for a while now, and I must say you have done a excellent job, not only has this website and forum been a joy for me, but it also has helped me reconnect with my childhood and the things that I thought I had already forgotten. You are an inspiration! Thank you for your commitment!
Jazzy
Hi Jazzy ( fellow Admin at LittleAriel Forum ) I very much appreciate your energy and enthusiasm and thanks for helping me maintain the Forum. LittleAriel keeps me in touch with my childhood a little bit too and I'm sure there are many others who stop by and remember theirs

Have a GREAT Ariel childhood day!!
Tuesday, March 1, 2005
Ariel why you canot put games in your net? i love your coloring pages but i want to play some more games, please Ariel.
vanessa
The plan is to reactivate the games page by the end of this month

Tuesday, March 1, 2005
Mike your website is great!!!!!! I've visited it a zillion times, the best one I've seen since now, 3/1/05
Viri
That's GREAT to hear, Viri. Thanks so much for taking the time to write

Tuesday, March 1, 2005
i was named after this movie
ariel
The GREATEST name anyone could have

of course, I'm partial to it...

Saturday, February 26, 2005
Ariel is my favorite. Ilove to look like Ariel and have friends like her
kristina
Absolutely

Thursday, February 24, 2005
Hey Mike! I stumbled across your site, and i LOVE it! Great pictures! I love Ariel, shes so cute!
Love lots, Deenie!
Well hello Deenie

Sure glad you enjoyed the site. Sorry about the wallpaper page but I'm changing hosts here pretty soon so when that happens, it'll be available again. Have a GREAT Ariel day!!
Thursday, February 24, 2005
hello, you can put in this site little mermaid songs and music then it site can be more interesting
Anna
An absolutely GREAT idea!! Oh if only I had the time right now. When I do, I'll be sure to add a page for all the TLM music

Wednesday, February 23, 2005
hi my name is cyndi I wish that you were my sister you are one of my fravite princess in the world I only have 2 items of you me and my cousin have a lot of toys of you
cyndi
Hello and thanks for writing Cyndi

Wednesday, February 23, 2005
Why did you do that the ariel games wont work?
jessica
I know, I know... it's that bandwidth issue

I'm working on it. When I change hosts, I should be able to activate that page again. Thanks for your concern

Sunday, February 20, 2005
Dear ARiel u are my secound favorite prinsses u are so smart to invint Belle that is why I love u not only be cause of that alot more things.
With lots of love Caroline
Thanks for your very sweet words Caroline

Sunday, February 20, 2005
Hi Ariel my names Kasie and I just wanted to say the you are my favorte princess and I think you are the best and I'm always watching your movies and shows. Me and my sister love you.
Bye, Kasie
Hello Kasie, thanks for sharing, and keep watching

Tuesday, February 15, 2005
Hello Ariel, Ariel You're My #1 Fan Of All Times, No Matter What They Say. I Say That You're Will Always Be The Greatest Mermaid Ever, Are You Doing OK Under The Sea. I Love The Little Mermaid Is Outstanding.
Andy
Thanks very much for writing Andy

Monday, February 14, 2005
hi WOW let me say you are so incrediable. My daughter was just flipping out when we stumbled across your website. Well you are definately in my favorites now. I was wondering if you would please send me some of your wallpapers. I loved them all but picked a few
Wednesday, February 9, 2005
Thank you so much for allowing me to use your ariel wallpapers. I really love them. While i was there i made sure to place a vote for your site. Good Luck at reaching #1
thankyou so much Christie and Daughter Huge Ariel Fans
It's always GREAT to get emails from such happy Ariel and TLM fans

I'm glad you both enjoyed the site..
Sunday, February 13, 2005
Hello Ariel beautiful so mermaids this tail in the water the sea have a mermaids other color sparkle tail mermaids.you can a swimming sea .When the movie Little Mermaid 3 new girl Melody grown up 16 yrs ld that teenage.
Thank for you, Anthony
And thank you very much for the poem

Saturday, February 12, 2005
hey ariel! my name is ariel too. the year I was born and month and the day the little mermaid movie came out I was born. So that's how I got my name ARIEL.
Ariel
WOW, now that is TRUELY special. It's a real honor to know you Ariel

Saturday, February 12, 2005
i loved the little mermaid i have tons of the videos of it my sister wanted to be a mermaid and she is 14 nearly 15 in may
karina
Hello Karina, I don't blame your sister at all for wanting to be a mermaid

Thursday, February 10, 2005
what about a fan fiction section? Im sure many have great arielly stories(including me).
Urchin
I agree and when I get the chance I'll be adding one, but it may take a while since I'm attending full time college at the moment.
Wednesday, February 9, 2005
I love it!!
Staci
Thanks Staci!!

Wednesday, February 9, 2005
i would like you guys to try and fix the pictures link
danielle
Thanks for your note Danielle, but there's actually nothing wrong with the pictures link. I had to reset the page because it was drawing off too much bandwidth which was costing me too many $. I'm planning to change hosts where I can get more bandwidth and then I'll be able to restore the page.

Tuesday, February 8, 2005
i love you ariel cause your the best mermaid and your voice is the very bests
ariel rejhana
Sunday, February 6, 2005
i want lots of picuters of the littel mermaid cause i ilke to see all of them on the comeputer if you can make some of them for me please thank you very much for that.
ariel rejhana
Sunday, February 6, 2005
i love the littel mermaid cause its very cool and fun to see my mom buy it for me long time ago when i was a little baby girl thanks
rejhana
Saturday, January 29, 2005
ariel you are the best princess cause your pretty and nice and sweet and so very cute and your hair is very cool and your eyes are blue as the water ilke all ways princess ariel
ariel rejhana
Thanks for all your wonderful emails Rejhana

Have a GREAT Ariel day!!
Monday, February 7, 2005
hello how old are you
ellie and ella
Sixteen forever of course

Monday, February 7, 2005
hey there!! im totally loving the your website! and also the little mermaid tv series! i was wondering if you could please please please send me a tonne of pictures/wallpapers whatever from the tv series? i know you have a lot to do running the website and all but i cant seem to find many pics from the series :(:(:( if you could help me out that would be fantastic! thankyou so much!!
love rebecca
Hello Rebecca, and thanks for writing. Unfortunately, screenshots from the series are very difficult to come by. If I had the time, I would really love to create them and set aside a page for the whole series, but as noted above, I just can't seem to find the time

I'm glad you enjoyed the site, and stop by often... have a GREAT Ariel day!!
Friday, February 4, 2005
hi ariel how are u im fine i hope u write back
Samantha
Thanks Samantha

I'm glad you're doing fine

Wednesday, February 2, 2005
hi ariel i have the same name as you because my sis named me i hpe i can see on tv want you look like your friend ariel
amanda
Thanks for writing Ariel

Wed, 2 Feb 2005
Hi Mike, Thanks a mil for your site.
Regards, Penny
You're very welcome Penny

Wednesday, February 2, 2005
hi ariel iwant to talk to you. want is your name and how old are you and my sis named me jist like you.
Ariel
Hi Ariel, it's good to hear from you :) You have an AWESOME name and a GREAT sis!! Last time I checked, Ariel was sixteen... I think she still is. Have a GREAT Ariel day!!
Tuesday, February 1, 2005
Hi my name is also Ariel.I am 14 and like The Little Mermaid.I guess you get to liking it after getting called the little mermaid everyday.I think this website is great for kids of all ages.I like it and look how old I am.Well got to go.
Love Ariel from Bedford .IN.
Well hi there Ariel, I'm really glad you wrote and thanks for sharing :) You have to know that you're just very lucky to have such a GREAT name, and you're never too old to enjoy the wonders of TLM... Have a GREAT Ariel day!!
Tuesday, February 1, 2005
Hi, If you could send me ArielStickerWallpaper.jpg that would be great. I'm sorry everyone abused your bandwidth...you have a great gallery.
Thanks
Thanks for the nice words Toby, enjoy the wallpaper and have a GREAT Ariel day!!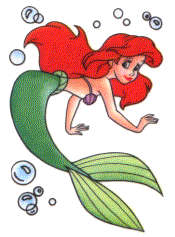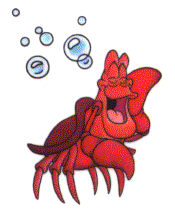 Explore Your Web... and have a GREAT Ariel day!!


Mike


Other Pages: 11 10 9 8 7 6 5 4 3 2 1